Exploring the Untouched Beauty of Korokoro Falls in Te Urewera National Park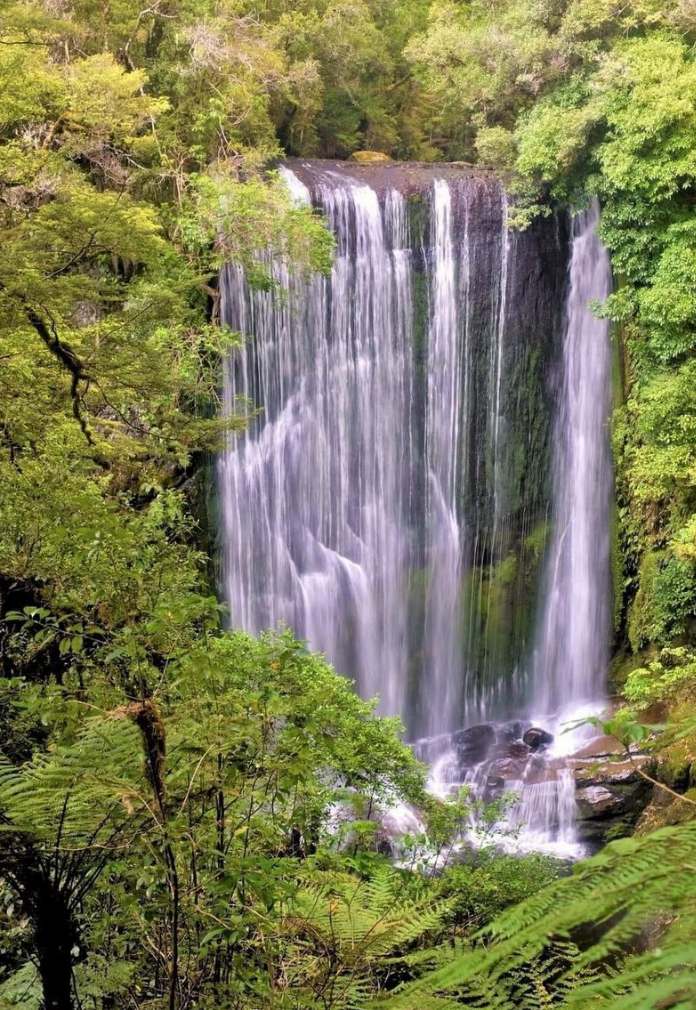 October 14, 2023
0 Comments
In the heart of Te Urewera National Park lies a paradise for waterfall enthusiasts – Korokoro Falls, a 22-meter marvel that captivates visitors with its natural beauty. Nestled deep within the unspoiled forest, this hidden gem can be reached on the second or third day of The Lake Waikaremoana Great Walk, Tuai, New Zealand, offering an adventure that's well worth the effort.
Getting There:
To embark on your journey to Korokoro Falls, you can expect a 3.5 to 4-hour drive from Rotorua or a 4-hour drive from Napier. However, it's advisable not to rely solely on Google's estimated travel times. The road to Korokoro Falls is a winding one with numerous zigzags and an unsealed surface, making it essential to have a 4WD vehicle for a smoother journey.
If you're driving from Rotorua, head south on SH-5, then make a left onto SH-38, which starts as a sealed road and transitions into a gravel road for the last 40 kilometers.
Traveling from Napier, drive north on SH-2 and then turn left onto SH-38, initially a sealed road, which transforms into a gravel road for the final 40 kilometers. The last 20 kilometers is a zigzag road, at times one-way, running alongside the lake's shore.
Read Also : Krejagbolten: The Stone of Love That Unites Norway
Korokoro Falls Access:
Korokoro Falls is situated along the Lake Waikaremoana Great Walk. To reach the waterfall, take a right from SH-38 (Waikaremoana Rd) onto Haowhenua Ridge Rd. Just before the intersection, a sign indicating "Access to The Lake Waikaremoana Great Walk" can be spotted along Waikaremoana Rd.
A spacious car park awaits you at the end of Haowhenua Ridge Rd, near the Hopuruahine Suspension Bridge, which marks the beginning or end of the Lake Waikaremoana Walk. This track can be traversed in either direction, offering flexibility to your adventure.
The side track leading to Korokoro Falls becomes accessible on the second or third day of your journey, depending on your pace. You'll find the sign for this track five minutes past Korokoro Campsite or approximately 1.5 hours from Waiopaoa Hut. The track itself is of moderate difficulty, involving a stream crossing that can often be a "dry shoes" crossing during the summer. From the main track, it takes around 25 to 30 minutes to reach the waterfall.
Upon crossing the stream, you have two options. You can follow the official track, which includes some climbing and leads to a small viewpoint in front of the waterfall. Be cautious, as the track can be slippery. Alternatively, you can choose to follow the stream bed, which allows you to walk up to the base of the waterfall, where you can even splash your hands in its refreshing waters (although it's also slippery).
For your return journey, follow the same track you took to reach Korokoro Falls.
To stay overnight at a hut or campsite along the Lake Waikaremoana Walk, you must make a booking in advance.
As an alternative, you can opt to catch a water taxi from Lake Waikaremoana Motorcamp to Korokoro Campside. In this case, you'll enjoy a more manageable 1 to 1.5-hour return track, making it a convenient choice for those seeking a shorter adventure.